N

Gain a deep understanding of marketing strategy that directly aligns with goals

N

Use data and analytics to uncover opportunities and solve business challenges

N

Solve business challenges with effective planning for deeper business insights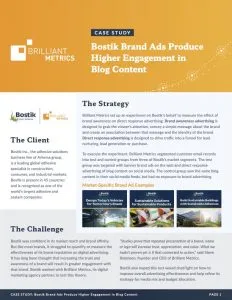 Case Study: Brand Ads Produce Higher Engagement Rate with Blog Content 
Many brands struggle to quantify or measure the effectiveness of its brand reputation on digital advertising.
Brilliant Metrics set up an experiment on Bostik's behalf to measure the effect of brand awareness on direct response advertising and found that blog content running alongside brand ads received nearly 90% greater engagements.
Align on Marketing Goals and Objectives
We start with the end in mind. Where do you want to go? What specifically does success look like? By documenting your goals and connecting them to business objectives, we get internal and organizational alignment on what you need to accomplish.
Start From Where You Are Today
Teams rarely keep pace with all facets of their marketing programs running at the same level. By leveraging historical data and trends, we identify gaps and uncover opportunities to achieve your business goals, identifying where you are today and where you want to be tomorrow.
Building a Custom Marketing Strategy
We recommend strategies and tactics based on your goals and capabilities today, then explain how the right channel and resources can achieve those goals and align on the KPIs and supporting metrics.
Turning Strategy Into Tactical Execution
For some clients, we provide a tactical-execution document for their team to manage. In other cases, we build the programs from the ground up. In both cases, it is all about your growth. 
Grow
The strategies and tactics we develop are iterative plans, to be optimized and refined based on your business goals, data and ongoing performance. We look at the data monthly and perform a deeper dive quarterly and annually to determine if the current tactical execution is fulfilling the strategic plan, then pivot accordingly.
When you partner with Brilliant Metrics, you get access to a team of experienced account managers, strategists and MarTech experts that become an extension of your in-house team. Clients who brought us in to advise on marketing strategy have benefited from:
N

Strategy based on data, not a "gut feeling"

N

Unbiased options and a fresh perspective

N

Access to new technologies and capabilities