When it comes to media buying, all traffic is not created equal. At Brilliant Metrics, we help our clients identify, understand and connect with their target audience on every channel. Here are some of the benefits our clients have seen:
N

Help you identify a media budget to achieve program effectiveness

N

Engage the customer at every stage in the buyer's journey

N

Identify key areas of waste in your current media spending that can translate to savings or reinvestment

N

Collecting greater data insights to understand customers
Digital Media Strategy
Every business has a unique set of goals and objectives, which requires a tailored strategy. Our digital media buying strategies take into account design, copywriting, budget planning and targeting to create a custom digital media plan that aligns with your internal KPIs.
Media Planning
Combining your goals and objectives with our research, we recommend the platforms, cadence and budget to deliver the right message to the right audience at the right time.
Ongoing Maintenance & Optimizations
We continuously optimize the programs as we test various targeting methods, messages and strategies to maximize results.
Understanding (and Acting) on the Data
We transfer data into actionable insights. In twice-monthly meetings, we will discuss your media performance: A high-level touch base to review the first 15-days of your media cycle, followed by a deeper dive at the end of the month to review key metrics, performance and historical data.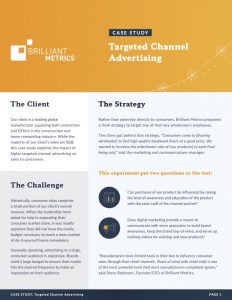 Case Study: Targeted Channel Advertising
Advertising to a large audience is expensive. Brands need a large budget to ensure their media hits the desired frequency to make an impression on their audience. Or do they? 
This case study explores the use of targeted channel advertising to maximize the effectiveness of a limited media budget to drive a 46,959% return on ad spend.
Hiring a digital marketing agency is a big step. Compared to other agencies, there are four areas that Brilliant Metrics outperforms other agencies:
N

A Focus on Continuous Improvement: We help you build a marketing "machine" and tune it over time to produce significantly-higher ROI.

N

No Media Markups. To us, markups never made sense. A markup incentivizes an agency to spend more of your money. Our goal is to produce the same results for less. For this reason, Brilliant Metrics will never mark up media. You pay what we pay, every time.

N

Respect for Both Creative and Data: If you've spent any time talking to other agencies, you'll notice that they neatly fit into two boxes: Data-driven and creative. We don't like boxes, and we recognize this is not a zero-sum game. We think the very best work comes when reliable data informs creative and great creative produces engagement and data.

N

Empowering Our Clients. We want you along for the ride and under the hood with us (as much as you'd like to be).
If you are looking for a dedicated media partner to help you generate strategic insights and produce results to help scale your growth, let's talk.